Enterprise Resource Planning (ERP) software helps companies use integrated business management solutions and automate certain departmental processes in an organization. These tools have become increasingly popular with large and small businesses (SMBs) due to their centralized approach to business process management.
What advantages does ERP software offer ?!
With an ERP solution you can collect, store, manage and analyze data from different business units. By collecting a company's shared transactional data from multiple sources, ERP systems avoid data duplication and provide data integrity from a single source.
When ERP software first hit the market, it was primarily designed for inventory management. ERP systems are used today to automate back office tasks and to optimize cross-departmental workflows. As an alternative to classic ERP software, many companies are now increasingly using online ERP systems that save the data in a cloud and make it available.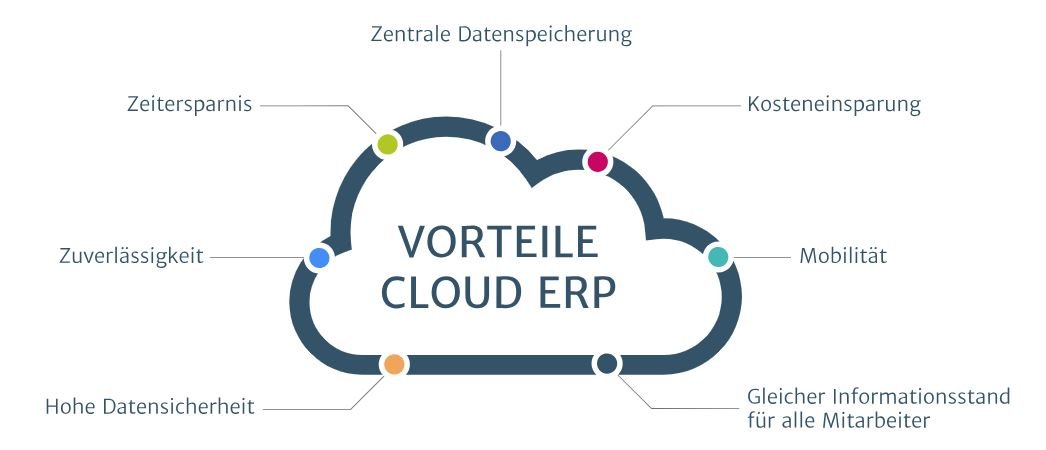 When optimized, ERP systems can increase efficiency, reduce costs and increase profitability. In today's digital age, ERP systems are critical to managing thousands of businesses of all sizes and in all industries.
6 important functions of ERP software
Financial management
The financial management component of your ERP system stores, monitors and analyzes all of your financial data, including accounts payable, accounts receivable, costs, budgets and forecasts. It helps you gain insight into your spending so you can spot trends and times of unusually high spending. You can then take advantage of this data by changing the processes that generate lower profits or higher expenses. This allows you to maximize your profits while reducing costs.
Financial management can also help improve cash flow, reduce costs, and increase profitability while maintaining accurate reporting. ERP software with a strong financial backing should ensure that organizations meet financial reporting and tax requirements with a single accounting, banking, and payments system. Almost all the basic elements of bookkeeping, accounting and taxation are mapped in ERP software.
Customer relationship management (CRM)
The "Customer Relationship Management (CRM)" module helps bring together data so that sales staff and marketing planners can better address the needs of customers, their preferences and buying patterns.
The knowledge that you can gain from a CRM component will help you to optimize your marketing and sales activities. It also helps better manage invoicing activities, provide relevant real-time information for the best-prepared proposals, and monitor the overall status of contracts to give you a better understanding and stay up to date at all times.
A big benefit of CRM is keeping track of your customers' buyer history. You can use this data to suggest additional purchases through cross-selling or upselling, or try to sell them a relevant product or service.
Sales and marketing
The sales and marketing component handles sales processes such as sales inquiries, offers, sales orders and sales invoices. The more advanced ERP system also includes tax regulations and shipment tracking. The sales and CRM modules work together to accelerate the sales cycle and generate more profit for the company.
Trying to manually calculate your sales margins and profit metrics as your business continues to grow can be nigh on impossible. With the help of a suitable ERP system, you can automate this tracking and easily retrieve the information you need. It is also possible to access synchronized reports which contain detailed business metrics (KPIs). These metrics can alert you to changes to drive further growth.
Human Resources (HR)
Employees have the highest priority in any organization, because without them there is no business. The HR component in your ERP system should be able to handle the entire scope of employee management from onboarding to offboarding and from compensation management to timekeeping. The biggest feature you need for an HR component is payroll software. Submitting payroll and issuing direct deposits by hand is incredibly time consuming. An HR component automates payments, including tax and benefit deductions, freeing up employees to focus on more important tasks.
Supply Chain Management (SCM)
Since ERP solutions are primarily aimed at manufacturing and sales companies, your ERP system should be able to monitor demand, supply, manufacturing status, logistics and sales in record time. For this reason, the SCM component of an ERP system is one of the most important. You need the best SCM capabilities to optimize your supply chain and that starts with collecting real-time data. Real-time data enables you to keep an eye on your supply chain so that you can identify and fix problems immediately, instead of waiting for the data and being delayed in reacting.
If you can't find information, e.g. For example, failing to promptly share the location of the key components of a product with suppliers can have a significant impact on a company's supply chain. The SCM component can help with demand planning with the help of real-time data, so that you can create an exact daily production plan that meets demand, but does not exceed it.
Manufacturing
This module helps companies to make production more efficient in areas such as product planning, material procurement, daily production monitoring and product forecasting. Some of the most important functions in this module are parts list, production planning, production control and distribution planning. The module is tightly integrated with SCM and inventory modules, especially in areas such as product planning and warehouse management. It uses product serial numbers to track and locate items in your organization.
Inventory control helps you measure inventory targets and standardize replenishments. It uses product serial numbers to track and locate items in your organization. Companies can organize and categorize their inventory levels, better manage detailed inventory data, and record various product movements. This gives supply chain managers a better understanding of what inventory is available, which has been shipped, which is not, and where the inventory is at all times.
Summary
With these 6 main features of ERP software, the processes and procedures within companies can be optimized. Which modules of an ERP system (in addition to those described above) are useful or necessary for which type of company must be considered on a case-by-case basis.