The organizational structure is the hierarchical basic structure of an organization. With their help, framework conditions for the division of tasks are established.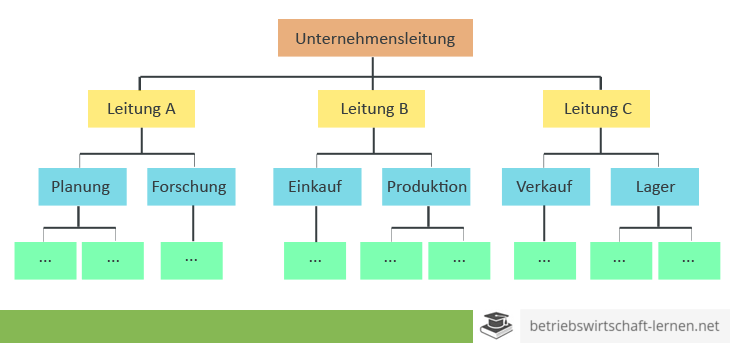 Definition / explanation
The term organizational structure is understood to be a hierarchical structure of a company or an authority, also known as an organizational chart, the framework of which defines the division of tasks.
A structure is created in the company, with the help of which the tasks are regulated and distributed among the employees and departments. In addition, it determines who is to be given the authority to authorize these tasks, and who is to assume responsibility and leadership.
The organizational structure consists of the two areas of task analysis and task synthesis.
Task analysis
In order to successfully carry out an organizational structure, the task analysis is carried out first. The company analyzes the overall tasks, breaks them down and divides them into sub-tasks.
The structure of the tasks can be carried out on the basis of various structure criteria.
A distinction must be made between the following classification criteria:
Objects such as finished and intermediate products or raw materials
Functions / tasks such as sales, purchasing, production
Purpose-related, these are supporting tasks such as administration
Ranks, that is, decide and execute
Phases, e.g. planning, implementation and control of purchasing
Task synthesis
The task synthesis combines the identified subtasks and thereby forms individual positions, departments or units.
It does not matter how many and which subtasks are grouped into one position or unit. They can be combined using different forms of centralization:
Functional or performance-oriented organizational structure: As an example, all production work in production
Divisional organization or divisional organizational structure: The company management follows on the second level the property, which on the third level can be divided according to various functions, such as procurement and production. This form of organization is also known as a division system.
Product or object centralization: All functions and activities on a product are grouped together to form a complex of tasks.
Center concepts: Are market-oriented organizational units that provide services for external or internal customers. Depending on the type of responsibility and decision-making area, it can be a cost, sales, profit or investment center.
Objectives of the organizational structure
The organizational structure ensures a structured division of tasks in a company. The goal is ...
increasing profits and sales
Minimizing expenses
a logical value chain
a secure profitability of the company
Minimizing expenses
Summary
Organizational structure is the hierarchical basic structure of an organization and structures the division of tasks
The organizational structure consists of the two areas of task analysis and task synthesis
Task analysis: The company analyzes the overall tasks, breaks them down and divides them into sub-tasks
Task synthesis: Combines the identified subtasks and thereby forms individual positions, departments or units