Die Stablinienorganisation ist ein Single line system, dass um Stabstellen oder Stäbe erweitert wurde. Stäbe können Expertenausschüsse sein oder aus einzelnen Experten bestehen. In diesem Organisationssystem hat ein Mitarbeiter genau einen Vorgesetzten. Stabstellen sind Vorgesetzten oder der Unternehmensleitung direkt zugeordnet und sollen diese beratend unterstützen und entlasten.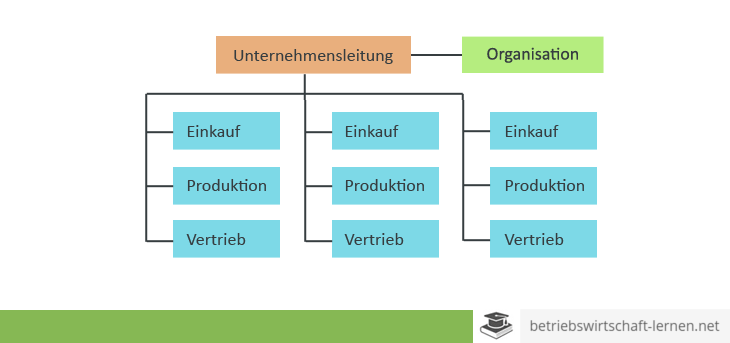 Definition / explanation
A hierarchical system that has staff positions built into a single-line system is referred to as a staff line organization. It is a special form of the single-line system.
In most cases, the hierarchical structure of companies follows the one-line organization. Certain organizational areas require professional competence expansion. If the company management establishes a staff position in order to get technical support for the procurement of information, one speaks of staff line organization.
Members are not arranged directly in the hierarchy. You have no authority to issue instructions to subordinate employees or organizational units. Staffs are used to obtain information and provide technical support to company management or executives.
Staff help with operational decision-making thanks to their expertise.
Examples of staff positions:
Data protection officer
IT department
Equal Opportunities Officer (human Resource)
Quality management
Legal Department
Press department
Product development, project development
Bar line system in practical use
Pole line systems have proven to be a tried and tested structure, especially in the organization of the police and the military. In the free economy, bar line systems are mainly used in medium-sized and larger companies.
For example, the company management relieves itself of the burden by setting up a press staff that takes on the press work. In large companies, staff positions are an important support for managers. Staff units are set up here for the delegation of non-value-adding activities.
advantages
Relief of the company management / executives
Improvement in decision-making skills and quality
Availability of expertise / expert knowledge
In addition, all the advantages of one-line organization (e.g. transparency of responsibilities, clarity)
disadvantage
Potential conflict between line and staff
more confusing decision-making processes
Frustration in the bar
if the decision is incorrect, the blame is passed on to the staff
Dependency of line instances on experts
high costs
Summary
In principle, staff line organization is a single line system, which has been expanded to include staff positions or members
an employee has exactly one manager
Staff positions are important support for managers