The matrix organization is an organizational structure of a company. It forms the interfaces between the functional organizational areas and the product areas.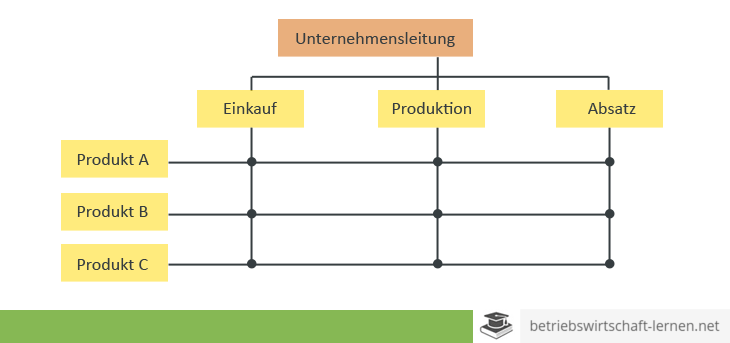 Definition / explanation
The organizational structure of a company is often divided horizontally into project or product-related business areas (product A, product B) and vertically into functional work areas (sales, production).
The intersections of the vertical and horizontal lines form the matrix. You are responsible for the respective business areas as well as for the respective functional areas.
The aim of the matrix organization is to take advantage of the Division organization and Functional organization of a company. It is similar to that Project management and is a Multi-line system the Organizational structure.
The matrix organization places high demands on ...
Senior managers or managing directors through the responsible management of two lines
Equal employees who are entrusted with coordinating the matrix
the individual employees, as they have to report to two superiors
Advantages of the matrix organization
significantly shorter communication paths
clear structuring of the tour
no hierarchy
specialized management staff
better balance between executives
stronger teamwork
Promotion of the social environment
close and professional control of employees on a horizontal level
a contact person is permanently available for the employees
Disadvantages of the matrix organization
more managerial staff is needed
no more transparency in the decision-making processes
more conflicts and competition in the team
possible excessive demands on employees can lead to burnout syndrome
longer and cumbersome decision-making
increased need for communication
Conflicts of competence due to power struggles between employees
Attribution problems of success and failure
less clear regulations and transparency of competencies
Summary
Matrix organization is an organizational structure of a company
ist eine Form des Mehrliniensystems der Organizational structure
Matrix is formed from the interfaces of the business areas and functional areas
there is a high need for communication