All actions and decisions that are important for a successful placement of a company and its products on the market are summarized as a marketing mix.
Definition / explanation
The marketing mix describes the definition and implementation of precise measures that deal with marketing. The classic theory describes four instruments for the use of the marketing mix (called the four pillars or on four P's):
These should be coordinated and build on one another.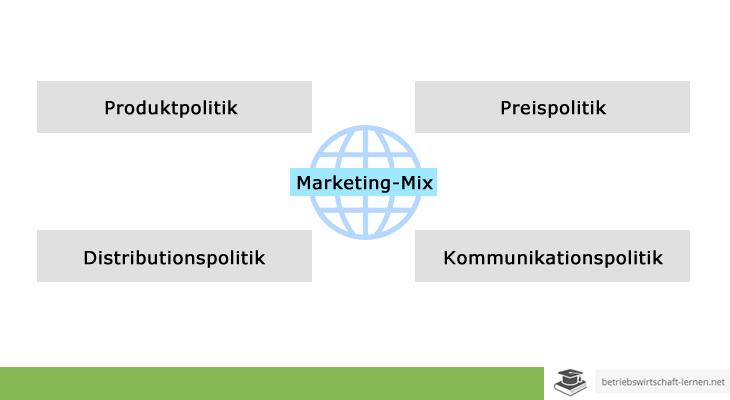 The four P's
Product policy - The product policy deals with the definition and design of all performance characteristics of the production, so that the needs of the customers are met. Decisions on product variants, product innovations, brands or guarantees are defined.
Pricing policy - The pricing policy defines the product price so that customers accept it and the product remains competitive. Decisions are made on the level and differentiation of prices.
Communication policy - The communication policy is used to determine how the company draws attention to its products, also with which means the customer should be encouraged to buy. This includes decisions on sponsoring, advertising, public relations, trade fairs and events.
Distribution policy – Die Distribution policy dient zur Bestimmung wie Produkte vom Anbieter zum Kunden gelangen. Es geht um Absatzkanäle oder um Fragestellungen bezüglich der Logistik.
More P's
If the marketing mix is optimal, the company can take further measures to influence the marketing of a product. The following questions arise which can be answered by taking into account other P's:
Is the product attractive to customers?
does the price match its value?
is the sales channel optimally organized?
is the product presented appropriately?
are the chances high that customers will choose this product?
Processes
Packaging
Personnel
Politics
Physics
Physical evidence
Personal Politics
Physical facilities
Public Voice
Product positioning
Pamper