With the marketing concept, companies try to set up a detailed plan of their entrepreneurial activities, with the help of which certain customer or market-oriented goals are to be achieved.
Definition / explanation
A marketing concept is one of the most important components of a company concept and serves to coordinate the market-related measures of a company. It can be created either for the entire company, for a strategic business unit, or just for a single product or service. Typically there is a subdivision into five phases.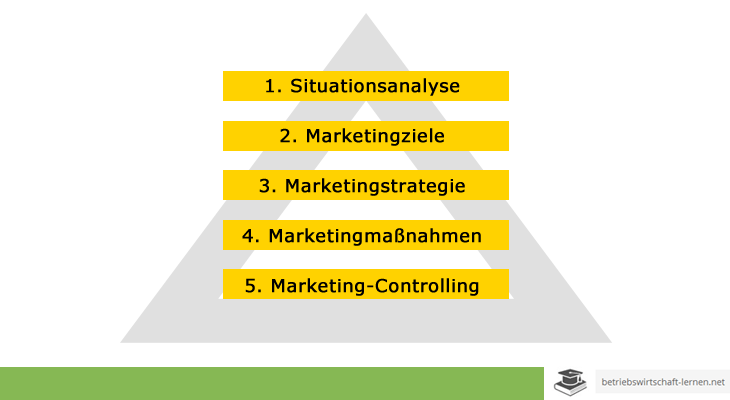 Five phases of a marketing concept
1. Situation analysis
The situation analysis is about recording the specific situation of a company and identifying possible opportunities and problems. On the one hand, the company itself and the respective environment, which includes competitors, suppliers, the market situation and legal situation, are analyzed. In the end, there is a comparison of your own strengths and weaknesses as well as corresponding external opportunities and risks.
2. Marketing goals
After the situation analysis, the concrete Marketing goals set. First of all, the specific market segments are determined. The goals set can be quantitative as well as qualitative in nature. Quantitative goals include, for example, certain sales figures or sales. Qualitative goals include things like customer satisfaction or image.
3. Marketing strategy
Once the company's goals have been defined, the next step is to develop actual strategies for achieving the set goals. For this purpose, procedures are defined in this step that determine which markets are to be worked on and how one would like to behave towards customers, sales agents and the competition.
4. Marketing Measures
Following the planning of the strategy, specific operational measures are defined in order to implement them. The definition is typically referred to as the marketing mix and is made up of the four basic instruments Product policy, Pricing policy, Communication policy and Distribution policy together.
Die Produktpolitik dreht sich dabei primär um die Suche nach Merkmalen und Eigenschaften des Produktes. Dagegen steht in der Pricing policy die Suche nach dem passenden Preis im Mittelpunkt.
Advertising and all other forms of communication are again summarized under communication policy. Finally, distribution policy deals with all questions that revolve around how the product gets to the customer.
5. Marketing controlling
Marketing controlling is the last step in the planning process. In order to ensure that the planned measures work, certain control parameters are defined in the marketing concept. These can be used to continuously evaluate the efficiency of the measures.
Summary
a marketing concept serves to coordinate the market-related measures of companies
the five phases include situation analysis, marketing goals, marketing strategy, marketing measures and marketing controlling
Implementation measures consisted of the instruments product policy, distribution policy, price policy and communication policy