Consumer surplus is the difference between the market price of a good and the maximum willingness to pay that a consumer would be willing to pay for it.
Definition / explanation
In der Wirtschaftswissenschaft wird das Konzept der Rente insbesondere in der ökonomischen Wohlfahrtstheorie verwendet, um den Vorteil oder den Nutzen für die Konsumenten wie auch für die Produzenten auf den Märkten zu bestimmen. In diesem Sinne wird auch zwischen Producer surplus und Konsumentenrente unterschieden.
For consumer surplus, it is assumed that a customer would be willing to pay a higher price for a product than other customers. If the market value is lower and he buys this product at the lower market value, the difference between the market price and the customer's willingness to pay is called the consumer surplus.
Graphic representation - consumer surplus
This pension is to be seen as a private gain for the customer, since he would have been willing to pay a higher amount. If a consumer has a willingness to pay of 5.00 EUR but the market value is 4.00 EUR, a consumer surplus of 1.00 EUR arises.
In einer grafischen Darstellung mit den Graphen Angebot und Nachfrage entspricht die Konsumentenrente dem Dreieck zwischen der Demand curve und dem Preis eines Gutes.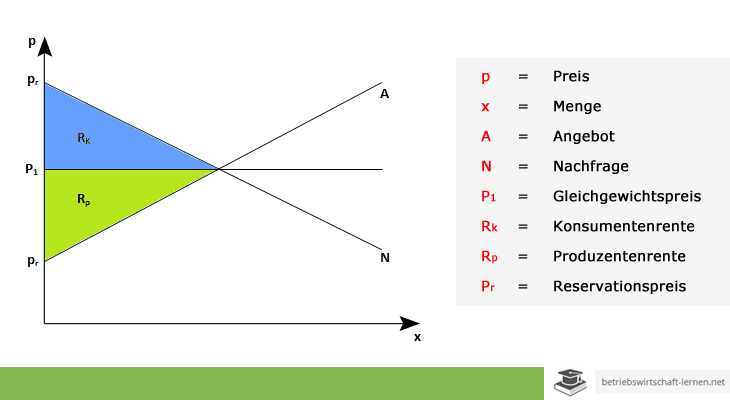 The demand curve expresses the willingness of buyers to pay for this product. The lower the price of the good (Equilibrium price), the higher the consumer surplus.
Consumer surplus for the entire market
The consumer surplus can be determined for the individual market participant but also for the entire market. An aggregated consumer surplus in a market can be calculated if all individual consumer surplus is added.
The sum of the aggregated consumer surplus and the aggregated Producer surplus is referred to as the welfare of society or as "economic rent".
Together with the producer surplus, the consumer surplus can be used to show the costs and advantages of alternative market structures. State intervention on the market and thus on the behavior of consumers and producers can also be assessed.
Summary
Consumer surplus is a concept of economic welfare
it is calculated from the difference between the market price and the customer's willingness to pay
the consumer surplus is the customer's private gain