The Ansoff matrix, which deals with four growth strategies, also refers to the product-market matrix. This tool is used in the context of work in strategic management.
Definition / explanation
The Ansoff matrix, also known as the Z matrix, was developed by Harry Igor Ansoff. This so-called tool is used when the decision to implement a growth strategy is made within a management team. In this case, the Ansoff matrix is used to plan growth. With the help of the tool, the potentials and risks of four possible product-market combinations are considered.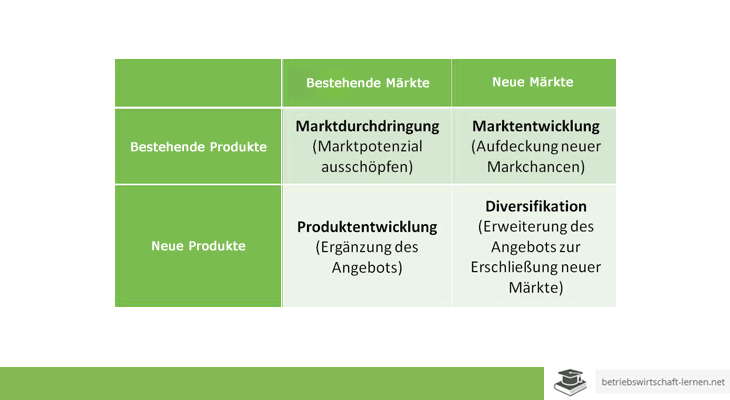 Market penetration
Bei dieser Kombination handelt es sich um einen bestehenden Markt, indem ein Unternehmen den Versuch des Wachstums anstrebt. Dies erfolgt durch die Erhöhung des Marktanteils von Produkten, die bereits am Markt bestehen. Im Mittelpunkt stehen dabei Kunden, die bereits eine feste Beziehung zum betreffenden Sales market haben. Bei ihnen wird eine Erhöhung des Absatzes angestrebt, außerdem sollen neue Kunden mit Produktverkäufen gewonnen werden.
The aim is to acquire customers by convincing customers of the advantages of their own products from the competition and buying them from the company in the future. Of course, penetration can be a combination of these methods.
The risk of this strategy is relatively low. After all, the skills and resources already exist. However, there is usually only limited growth. If the market is saturated, it is necessary to switch to a different growth strategy.
Market development
In this case, products already exist on the market. Therefore, the target group should be expanded. On the one hand, this takes place through the development of new geographical regions - ideally, the orientation takes place worldwide. On the other hand, the focus is on opening up new market segments.
The strategy is used by companies that focus on a specific product. However, there is a higher risk with market development than with market penetration, as the expansion leads into an unknown market.
Product development / product modification
As part of this strategy, an existing market is satisfied. This can be done with the development of additional variants of products or of new products. Since the focus in this case is on acquiring new skills, the risk of this strategy also increases significantly. After all, there is no way of predicting how well a modified or new product will be accepted on the market.
Diversification / innovation
In this case, it is the riskiest growth strategy ever. What is required is the development of new products and the opening up of new markets. However, a high return on investment (ROI) justifies the implementation of this strategy.
A distinction is made between three models of diversification, which are dedicated to expansion, differentiation or new entry into new markets:
Summary
Ansoff matrix is a tool with four growth strategies for strategic marketing
Market penetration with low risk and few growth opportunities
Market development with a slightly higher risk, as the market is unknown
Product development with greater risk, since no sales forecast is possible
Diversification of products with higher risk