In the single-line system, the arrangement of the line is passed on directly to the points below. There is clear authority and a clear reporting channel. Several employees are subordinate to one supervisor and each employee has only one supervisor.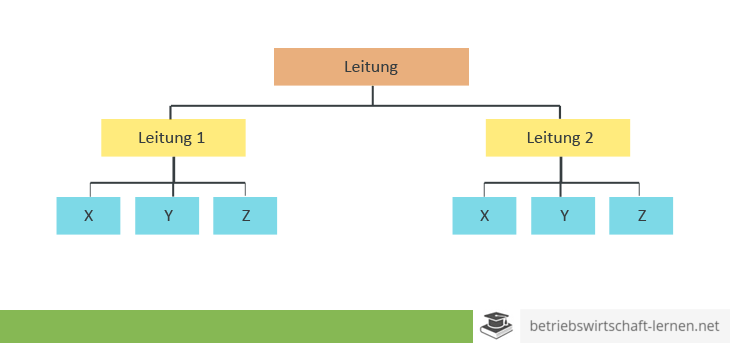 Definition / Erklärung
Das Einliniensystem ist eine Organisationsform deren Grundlage das Prinzip der Einheit der Auftragserteilung ist. Dabei gibt der Vorgesetzte seine Anordnung direkt an einen ihm untergeordneten Mitarbeiter weiter. Währenddessen hat jeder Mitarbeiter nur einen Vorgesetzten.
Beim Einliniensystem verlaufen die Kommunikationswege vertikal und es herrscht eine klare Richtung der Weisungsbefugnis und des Berichtsweges. Dies sorgt für einen straffen Aufbau von Verantwortung und Anordnungsrecht.
In practice, this organizational structure is used for ...
neugegründeten, kleinen und mittleren Unternehmen
Unternehmen mit großer Wertlegung auf eindeutige Kommandostrukturen und Disziplin
bürokratischen Organisationen wie z.B. die öffentliche Verwaltung
Advantages of the single-line system
Möglichkeit einer einfachen und übersichtlichen Strukturierung
Communication, service and information channels are clear
eine Überschneidung der Kompetenz wird vermieden
Arrangements are clear and so is the distribution of competencies
Disadvantages of the single-line system
lange Dienstwege sorgen für einen Zeitverlust
Zwischeninstanzen werden unnötig belastet
Vorgesetzte werden durch die Kommunikations- und Kontrollaufgaben überlastet
cooperation between employees is made more difficult
wenig Spezialisierungen möglich
Summary
One-line system is an organizational form
Orders from the management are passed on directly to the departments below
there is a clear authority to issue instructions and a clear reporting channel
each employee has only one manager