Als Marketing-Mix werden alle Handlungen und Entscheidungen zusammengefasst, welche für eine erfolgreiche Platzierung eines Unternehmens und seiner Produkte auf dem Markt wichtig sind.

Definition / Erklärung
Der Marketing-Mix bezeichnet die Festlegung und Umsetzung genauer Maßnahmen, die sich mit der Vermarktung beschäftigen. Die klassische Theorie bezeichnet für den Einsatz des Marketing-Mixes vier Instrumente (die vier Säulen oder auf vier P's genannt):
These should be coordinated and build on one another.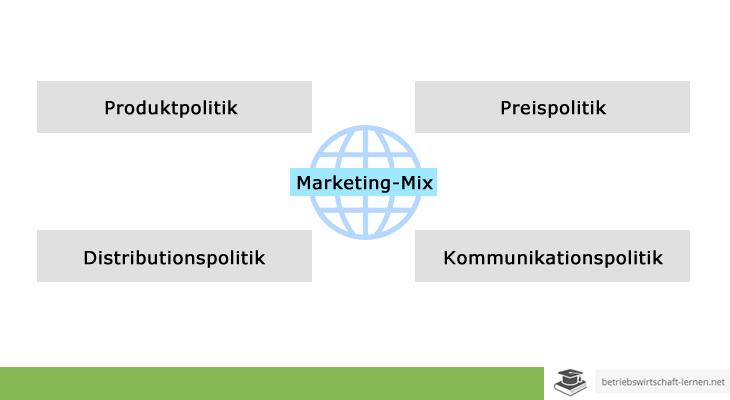 The four P's
Product policy – Die Produktpolitik befasst sich mit Definition und Gestaltung aller Leistungsmerkmale der Produktion, damit die Bedürfnisse der Kunden erfüllt werden. Entscheidungen zu Produktvarianten, Produktinnovationen, Marken oder Garantieleistungen werden dabei definiert.
Pricing policy – Die Preispolitik definiert den Produktpreis, damit die Kunden diesen akzeptieren und das Produkt wettbewerbsfähig bleibt. Entscheidungen werden zu Niveau und Differenzierung der Preise getroffen.
Communication policy – Die Kommunikationspolitik dient zur Bestimmung, wie das Unternehmen auf seine Produkte aufmerksam macht, ebenfalls mit welchen Mittel der Kunde zum Kaufen animiert werden soll. Hierunter fallen Entscheidungen zu Sponsoring, Werbung, Öffentlichkeitsarbeit, Messen und Veranstaltungen.
Distribution policy – Die Distribution policy dient zur Bestimmung wie Produkte vom Anbieter zum Kunden gelangen. Es geht um Absatzkanäle oder um Fragestellungen bezüglich der Logistik.
More P's
Ist der Marketing-Mix optimal, kann das Unternehmen mit weiteren Maßnahmen auf die Vermarktung eines Produktes einwirken. Dabei ergeben sich die folgenden Fragem welches sich durch die Berücksichtigung weiterer P's beantworten lassen:
Ist das Produkt für Kunden attraktiv?
stimmt der Preis mit seiner Wertvorstellung überein?
is the sales channel optimally organized?
wird das Produkt angemessen präsentiert?
sind die Chancen hoch, dass sich Kunden für dieses Produkt entscheiden?
Processes
Packaging
Personnel
Politics
Physics
Physical evidence
Personal Politics
Physical facilities
Public Voice
Product positioning
Pamper